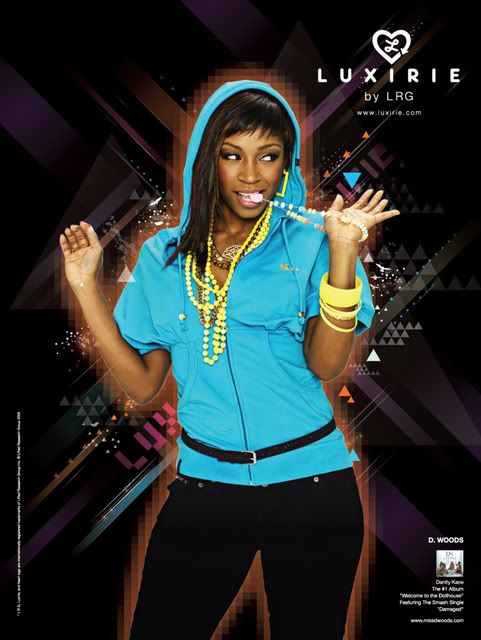 D.Woods promo for LRG
[Credit:
Allthatsfab.com
]
Sike!..but on a serious note folks. Rumors have been ciculating around the internet that there has been some on-going cat scratches between Danity Kane members;
D.Woods
and
Aubrey
. I took a stroll down D.Wood's
site
just out of curiosity, and actually found some interesting clues, well if you can call it that.
I noticed that throughout the month of May, there wasn't anything brewing between the two since they were hosting shows and conducting stage appearances together. But suddenly aroud Juin 5th, D.Woods wrote a message to all her fans in arizona that this event which was posted on the 5-19-08 and was set to being hosted by both members end up being canceled. You can cacth the message quoted below.I am pretty sure that's around the time where the rumors started popping on the net. This entry was a quick food for thought, let's see what happens folks ;)

To all of our fans in Scottsdale and Phoenix, Arizona: Due to unforeseen circumstances tonight's club appearance in Scottsdale has been cancelled. We are very sorry for any inconvenience that this may have caused. We truly were anticipating tonight's event as we are sure you were as well. Again, we are EXTREMELY sorry for this misunderstanding. The situation was completely out of our control and we hope to see you again sometime. Thank you for all your love and support.
What next?
Enjoyed this post..please do not forget to

Suscribe

with your email address to receive future updates!