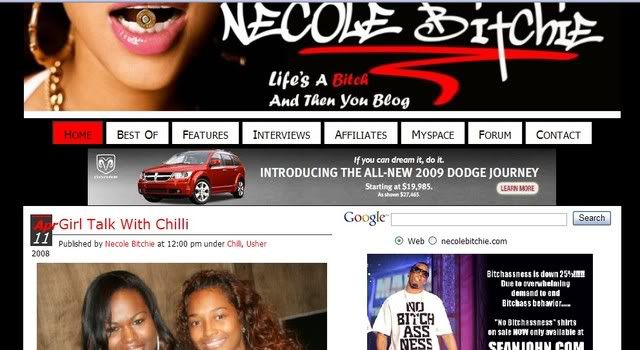 I have to give it up to blogging buddie Necole Bitchie for this interview. My momma was peeking over my neck a couple minutes ago, while I was scrolling down to read the full interview. The lady was that intrigued! hehe!
Chilli on Marlon Wayans:
See no one knew! And it's funny because I met Marlon when I was 20, when I had just got in TLC and you remember that movie "Mo Money"? I remember we were on tour with Hammer and we had went to the movies and I saw him in that movie. I was like "Oh My God he is soooo cute!!!" So we went out that night and I ended up seeing him that night. And I met him for the first time and we just clicked instantly
Chilli on potential husband:
Girl, Marlon! [laughs] Oh god! He's so awesome. I messed up. I blew that. I just wasn't there at the time you know. Just someone who loves God and who is very respectful of himself. If that relationship with the Lord is there then he's already gonna just not do certain things and will naturally do other things and that's the part that's hard for me to find. Like I meet these guys and they may have some stuff but they don't have everything. And the things they don't have are major enough for me to just be like "no, I can't". And girl I don't waste time, I can tell by the second date. It's like peace. Like "baby bye" and I won't talk to him again.
and wait there is more!
What next?
Enjoyed this post..please do not forget to

Suscribe

with your email address to receive future updates!