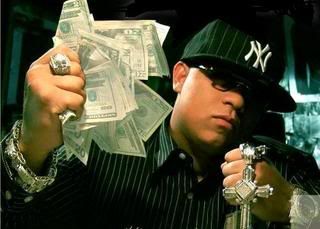 When I found this story in my inbox, I laughed. Don't ask why. A 26 year old puerto rican lady got bitten because she was trying to get rapper
Hector (El Father) Delgado
autograph. Now you might ask...who the f*** is that? oh do not fear because I was in the same boat too. But continuing with the story >> If that wasn't enough someone from Degaldo's posse started sparing bullets all over the place. Read the full story after the cut, while I ask myself why lord? why? By the way this unknown rapper made an apperance on Jay-Z American Ganster album.
SAN JUAN - A music fan in Puerto Rico learned the hard way Saturday that autograph-seeking sometimes bites. When the 26-year-old woman sought the autograph of rapper Hector (El Father) Delgado, she was grabbed and bitten by someone in his entourage and several gunshots were fired by a person in Delgado's group, police said. Prosecutors are considering charges against Delgado, a local star who appeared on hip-hop potentate Jay-Z's "American Gangster" album, and his pals. The confrontation occurred before dawn when Delgado stopped at a gas station to buy food after playing at a private party. Delgado's group fled without paying for their gas. They were later detained at another gas station in western Puerto Rico. [SOURCE]
What next?
Enjoyed this post..please do not forget to

Suscribe

with your email address to receive future updates!