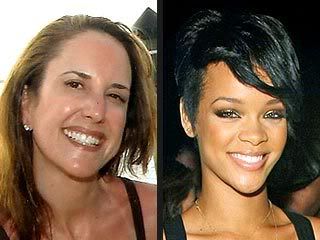 We over at
RBTF
have a tendency to put that ass on blast if we don't condone to your behavior but we also have the need to uplift you for your good deeds. Which I know lots of well known bloggers won't do even if it kills them! While reading
this
article,
Rihanna
made me throw all of my "I don't like her" attitude out of the widow.
Despite her busy schedule the barbados singer took time to focus her energy towards a mother of two who has been diagnosed with leukemia. Sources say that Lisa [Gershowitz Flynn]is in desperate needs of a marrow transplant. Flynn became very suprised when Ri-Ri took it upon her self to spread the word about her situation by joining forces with DKMS - Apparently "the world's largest non-profit marrow donor center to help raise awareness for the need for people to come forward to become donors." to help her find a donor match says people staff writer K.C. Baker. Rihanna explains:
When I heard about Lisa [Gershowitz Flynn]'s plight, my heart broke," Rihanna tells PEOPLE exclusively. "I said, I need to get the word out about Lisa right away.'I think DKMS is an incredible charity because you can really see the results. My own charity, Believe, works specifically with children in need [and with children with leukemia]. Children need their mothers more than anything else in the world. Lisa has two children. My charity will continue to work with DKMS, because in finding a way to save Lisa's life, we will in turn be saving her children's lives."
What next?
Enjoyed this post..please do not forget to

Suscribe

with your email address to receive future updates!