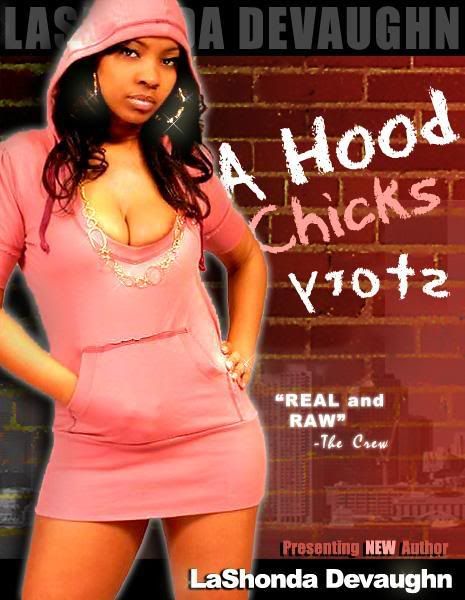 For all of you urban novel addicts like myself! There is a new story out there for you.
A Hood Chick's Story
written by Lashonda DeVaughn. I am so exited about reading this book and ofcourse conducting a phone interview with the lady herself. The best thing about it is ...wait for it....SHE'S FROM BOSTON! Finally:) Yessir! You know we at Repping Beantown blog appreciate all of our beantown artist and will try our best to uplift them. Just wanted to give a quick update on this so you guys can cop yours, so by the time I am done reading the book and doing the interview with miss Lashonda. You guys can post up your questions and all that good stuff. Read A HOOD CHICK'S STORY synopsis after the cut,more to come.
Drama is no stranger to Tiara James. When it felt like the world had finally changed the hand that she'd been dealt, reality continued to creep up on her. With a mom on the verge of becoming an alcoholic and an alcoholic crack-addicted father who use to beat her mom in front of her, who could blame Tiara for finding a family on the streets. Tiara's loyalty to her friends was undeniable. The crew consisted of, Tiara, Tamika, Shavon, Renee, Ke Ke and Karen. They jumped, robbed and fought other girls who stood in their way. When trouble surfaced, the crew had no problems with getting their hands dirty. Tiara was faithful to her crew handling any drama that presented itself. But when jealousy get's the best of friends, things continued to get ugly. With an older brother Tre James wrapped deeply into the streets becoming a drug dealer at 13, their younger brother Sharod had no choice but to admire both Tre and Tiara's lifestyle. Tragedy continued to hit home and Tiara's life continued to go down hill. She lost people who she loved and trusted the most to death, jail or betrayal. From welfare, section 8, jail, drugs, abusive relationships and lies, Tiara's future seems uncertain. Will she finally rise above the drama that meets her at every corner, or remain trapped in the jaws of the hood? Brace yourself as Tiara James takes you on a rollercoaster ride in her footsteps, in her hood, telling her story
What next?
Enjoyed this post..please do not forget to

Suscribe

with your email address to receive future updates!