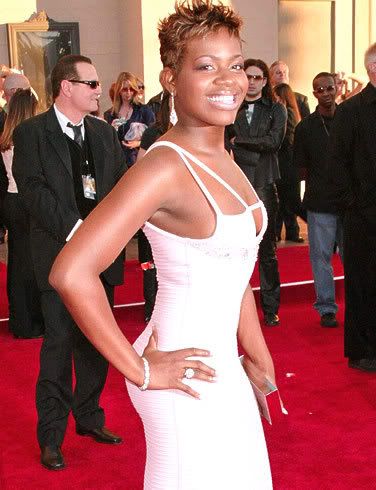 For a while now, severeral sites have been reporting that American Idol singer/winner Fantasia was expecting a child with Grand Hustle rapper Young Dro. More of this rumor were building up where some sites even claimed that was the reason why she was missing all these performances of "The Color Purple". Rep from Fantasia have cleared up all these rumors with US weekly recently. Read the Fantasia is not Pregnant by Yound Dro article after the cut. I am suprised that the site(s) that claims they know everything and are so well connected have not taken time to clear up their mistake.Makes me wonder...
Fantasia Barrino is "not pregnant," a rep for her Broadway show, The Color Purple, tells Usmagazine.com. Several blogs recently reported that the American Idol champ, 23, and rapper Young Dro were expecting. "Fantasia is not pregnant and the Internet rumors are entirely untrue," Barrino's rep confirms to Us. The New York Post also said that "an upcoming visit from the stork might explain the star's numerous absences from the Broadway smash The Color Purple." But the show's rep tells Us: "It is true that she has missed some performances because she has gotten sick from time to time over the nine months, but doing eight shows a week is a lot so she missed a few."
What next?
Enjoyed this post..please do not forget to

Suscribe

with your email address to receive future updates!