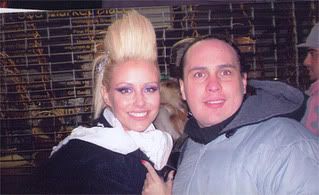 Let me first apologize for this photo, it was the best I could find of Aubrey.Danity Kane very own
egorific
[Yes I just made that up]
Aubrey O'Day
invites all of her fans to her broadway debut in HairSpray which she will be playing the role of
Tracy Turnblad's stuck-up arch-nemesi Amber Von Tussle.
Now that sounds all fine and dandy, but reading from DK's myspace blog, looks like Aubrey has much bigger ambitions to play a different character that the one given to her. She explains or in this case blames it on her the fact that she is skinny. I say YEAH RIGHT!
Hey Everyone, I wanted to let you all know that I will make my Broadway debut in HAIRSPRAY on FRIDAY, JULY 18! It has been a dream of mine to perform on Braodway since I saw the Nutcracker with my mother when I was 6 years old. Before MTV and Danity Kane I played the lead in various musicals such as Dorothy in The Wizard of Oz, Carmen in Fame, and Sandy in Grease. I am a little too thin to play the lead role in HAIRSPRAY so I will be playing Tracy Turnblad's stuck-up arch-nemesis Amber Von Tussle! Nothing beats Broadway but I am even more excited to act with the all-star cast of ASHLEY PARKER ANGEL,TEVIN CAMPBELL, JENIFER LEWIS, and GEORGE WENDT! Thank you all of my dear fans who have made an opportunity like this possible and I hope you come out and see the show.
What next?
Enjoyed this post..please do not forget to

Suscribe

with your email address to receive future updates!