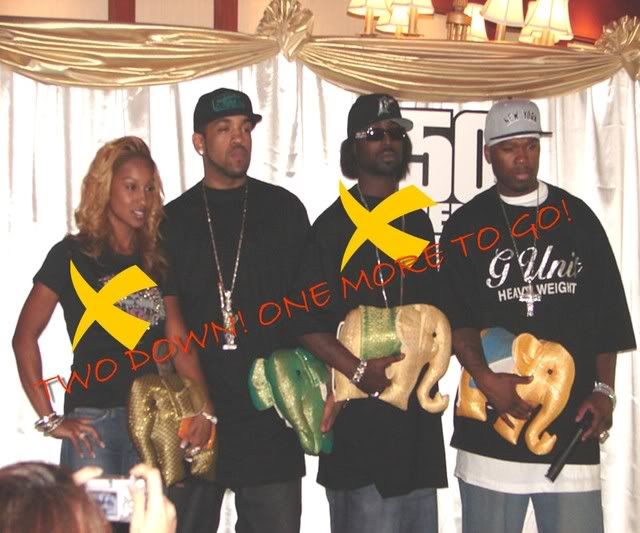 This does not shock me at all. It was only a matter of time. As you might have recalled there had been on-going rumors that
Young Buck
was parting with his rap crew G-Unit. Now the front-man or whatever the hell his name is has confirmed to the media that Young Buck is officially out of the G-Unit group but will remain a signed artist on the label. In a recent
MTV interview
as you can view after the cut. 50 explains the reason for Buck's departure from the group. Well the ones he wants the public to know of :
Buck did that. I think that what he was saying, in order to validate himself as a man, he feels he has to go against what I'm doing, similar to some of the things we've seen from Game. ... [But then] he'll back off of it, when we're in direct conversation. When he's out in public, he'll say something. They're like my younger brothers, but they'll do sh-- for attention. They'll do things, then when I look like, 'What are you doing?' They'll be like, 'Oh, nah, because you was doing this. ... Because you didn't call me when you were on the international tour.' I'm like, 'Are you kidding me? You didn't call neither, so what does that mean?"
I hope that y'all caught up to the partern being played here. First it was The Game, then Olivia and now Young Buck. Be sure to tune in for Lloyd withdrawal from the two men group now anytime soon..I will put my $$$$ on it! I think it's funny because I recall an interview 50 did with Sway from mtv when he was "on top" and I specificly remember when Sway asked 50 "is it lonely at the top?"
What next?
Enjoyed this post..please do not forget to

Suscribe

with your email address to receive future updates!