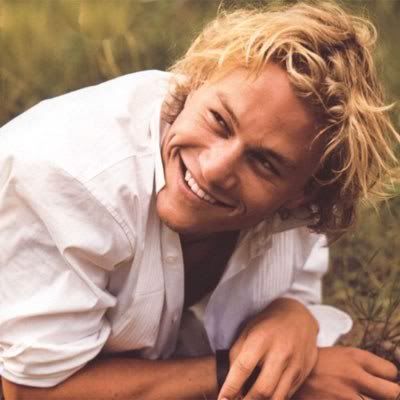 I was real shocked when I caught this article today. While reading this, I noticed a pattern. Usually when a celebrity dies, the first couple of days everyone feels all sympathic and all that bull like they really give a sh*t. Then as soon as the story is making it's way to being layed down, News outles throws a stab. I wonder when they do, are they aware of how much that person's family are suffering. I'm not saying
Heath Ledger
's family should be hiding from whatever the truth was that cause the death of that man. To summarize the article after the cut found
here
, people are basically reporting that the dude was a somewhat drug addict and that's why he died. It might be true, but damn I would of at least thought that was for his family to decide and deal with.
Videotape footage of Heath Ledger partying with two strangers at a Hollywood drugs party has been axed from the TV. The Insider and Entertainment Tonight aired a short segment of the videotape showing the late actor talking to the men, who are snorting cocaine, on Wednesday. The murky video was shot in January 2006 at the Chateau Marmont hotel and Ledger can be heard talking to the men about his then-three-month-old daughter Matilda. While Ledger was partying, his then-girlfriend Michelle Williams was upstairs with their baby Matilda in a separate room. At one point, Ledger can be heard saying, "I'm going to get serious s**t from my girlfriend. We had a baby three months ago... I shouldn't be here at all." Although Ledger cannot be seen taking drugs in the footage, Entertainment Tonight and The Insider have decided against plans to show the full uncut videotape on TV on Thursday. A statement read: "Out of respect for Heath Ledger's family, Entertainment Tonight and The Insider have decided not to run the Heath Ledger video which has been circulating in the world media." Ledger was found dead in his New York apartment on January 22nd. An autopsy failed to reveal how he died, although police believe his death could be drug-related as five different bottles of prescription drugs were found around his apartment
What next?
Enjoyed this post..please do not forget to

Suscribe

with your email address to receive future updates!